Home > Our Products > Toilet Partition/Toilet Booth > Toilet Partition/Toilet Booth > LifeTect
LifeTect
With "LifeTect", the door of a toilet stall in use can be opened from the outside using
this special key when it becomes impossible to open the door from the inside by an accident and the person confined on the inside can be evacuated.
Characteristics of LifeTect
Creates a completely closed space for safe and reassuring use
Equipped with a feature to open the door immediately in an emergency, with the combination of a rotating slide bolt and a swinging edge
Maintains high-quality design for use in any kind of space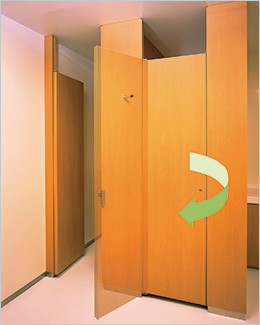 Normally opens inward
A special key immediately opens a closed door from the outside in an emergency.
The firmly fixed edge swings out when lock is opened with key.
---
---